Please make sure you understand before entering a bid.
You are bidding on the downpayment and then accepting monthly payments.
The bid is not for the full purchase price of the land.
Please read bottom of ebay add
$200.00 per month for 7 years !!!!
SOUTHERN CALIFORNIA LAND
Cabin with 5 Acres Land
IN BEAUTIFUL SAN BERNARDINO COUNTY
San Bernardino County is the gateway to Southern California's desert and mountain communities. In its scenic mountains you can ski or snowboard in the winter and fish or sail in the summer.
You'll also find a number of quaint foothill communities where you can pick your own peaches and pears in the summer or apples in the fall. In these communities you can visit farms, ranches, fruit stands and experience a small, hometown feel--letting you escape from urban city life. You can also visit the scenic desert and its beautiful natural foliage and picturesque sunsets.
San Bernardino County also has much to offer if you enjoy visiting museums or historical landmarks. From ghost towns to dinosaur bones to collectible gems, rocks and minerals, San Bernardino County has natural beauty to enjoy.
WHERE IS OPPORTUNITY, CALIFORNIA?
It's where you can own a home, grow a business, and live closer to where you work while still realizing access to a global marketplace. It's where affordability, competitive commercial real estate and quality of life all come together.
It's where the industries are as diverse as the ideas that drive them and entrepreneurs and corporate America are encouraged by both urban centers and wide open spaces. It's a metropolitan region covering over 20,000 square miles, but just at the heart of Southern California.
Quick Facts about San Bernardino County
Population
2005 -- 1,963,545 (12TH largest in the U.S.)
2000 -- 1,709,434
1990 -- 1,418,380
Employment growth
2005 -- 4.2 percent (3rd highest in California)
2004 -- 4.0 percent
2003 -- 2.2 percent
2002 -- 2.4 percent
Size: 20,160 square miles, the largest county in the United States.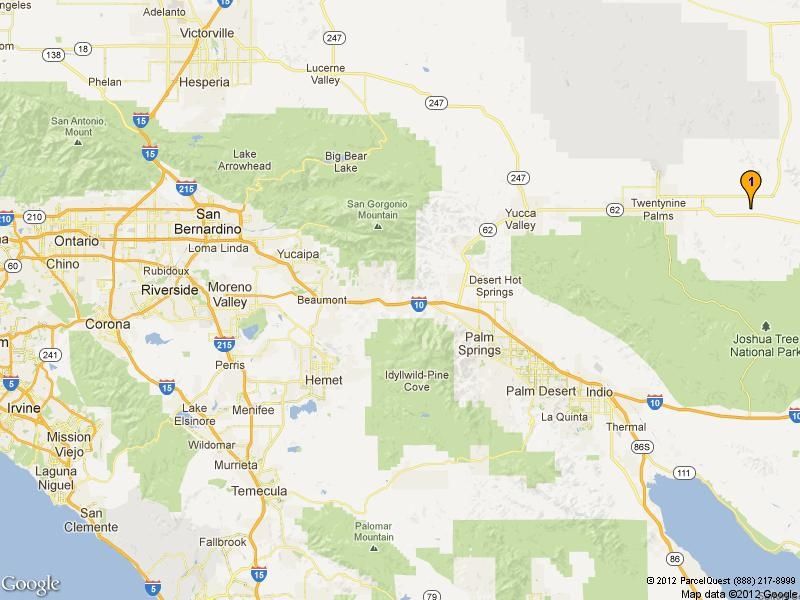 Twentynine Palms, California


Enter Coordinates into google maps for overhead view of location:
34.131593483, -115.90815172
Information on Cabin:
Cabin was built in sometime in the 60's. As you can see it will need work. The cement floor is in good condition. The cabin is about 450 square feet. Frame is in good condition. The property is on both sides of Highway. 3 1/2 Acres on south side 1 /12 Acres on north side. Cabin is on south side. I feel the pictures tell it all. The address for locating property: 80371 Twentynine Palms Highway, Twentynine Palms, California. There is a electric pole located about 100 feet away from cabin.
Anyone that has less than 25 feedback's must contact me first before bidding. If you dont you will be automatically deleted from the auction.
Property Description:
SIZE: 5 ACRES
POWER: ELECTRIC POLE ABOUT 100 FEET AWAY
PHONE: CELL
WATER: WELL OR WATER HOLDING TANK
GAS: PROPANE
TIME TO BUILD: NONE
PROPERTY TAX: $250.00 PER YEAR
ZONE: HOME SITE/ RECREATIONAL
APN: 062528122
NO DOCUMENT OR TRANSFER FEES !!!!!!!!!!!!!!
THIS IS OWNER FINANCED -- No Credit Checks -- No Qualifying -- Monthly Payments of $200.00 per month for 84 months (7 years) with 0.0 % interest!!!.
The Land Sale Contract will be sent to you priority mail upon receipt of your down payment. Be an informed buyer!!! Please ask any questions you might have prior to bidding. We are easy to contact and ready to answer any questions.
I only accept paypal for first time payment... During the loan I accept cash, personal checks, money grams, bank deposits, or paypal
Terms and Conditions: This land is being sold in"as is" condition. Seller makes no representations, warranties of any kind whatsoever, expressed or implied regarding the nature, value, source, authenticity, fitness, merchantability or any other aspect or characteristic of this property. Seller makes no representation as to future prospects for increases in value of this property. All prospects buyers are urged to do their own due diligence to their own satisfaction prior to bidding on this property. All properties are sold in "as-is" condition. Prospective purchasers are urged to examine, visit and research all properties prior to bidding - bid upon "due-diligence". All information contained in this listing page has come from reliable sources and is accurate to the best of our knowledge. We make no guarantee expressed or implied as to the location, condition, accessibility, terrain, build ability or information contained in this listing. As seller, we guarantee that there are no liens on the property and that we will provide the buyer with a Grant Deed upon payment in full. You can purchase the cabin with payments before the auction ends... Just contact me.
SPECIAL NOTE: For the life of the loan you cannot live at the property 24/7 as your permanent dwelling . You can work on it and vacation there time to time. If you need more information on this restriction feel free to contact me.... Once the loan is paid in full, it is your property to do what you want to do with it ......Thanks !!!
.